It's not all bubble baths and facials
Considering this global industry is estimated at over $4.4 trillion, it can be hard to remember how the Health & Wellness movement even started. But before overpriced face rollers and activated charcoal foot baths—existed the Manitou mineral springs. Earth: the "OG" of health and wellness.
The history behind our healing waters
There's something in the water—but don't take our word for it. In the mid-1800's, the Ute, Cheyenne, and Arapahoe tribes believed Manitou's bubbling mineral water to be the breath of the Great Spirit. The sacred soda water even had soothing effects on sour stomachs and dry skin. (We can neither confirm nor deny the soft-as-a-baby's-bottom effect of a dip at SunWater Spa.)
In 1820, Dr. Edwin James, the Long Expedition's botanist, became the first westerner to "discover" the healing mineral waters. With the same enthusiasm as a flash sale on rose water face mist, the sick and ailing—particularly tuberculosis patients—flocked to Manitou Springs to indulge in our healing waters.
Calcium and lithium and bicarbonate—oh my!
While most of the eight mineral springs stand as prominent fixtures in our little mountain town—a few of the springs can only be found with a keen eye. Download our map for a self-guided tour of the mineral springs.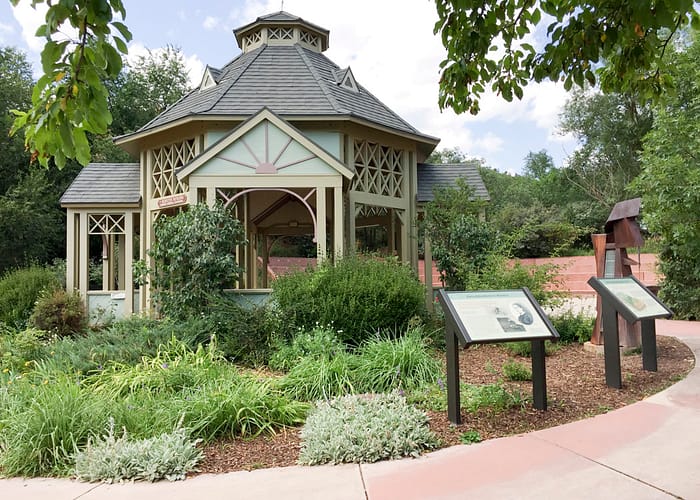 7 Minute Spring
Drilled to enhance the park of the Mansions Hotel in 1909, carbonation caused this spring to erupt every 7 minutes.
Shoshone Spring
With the highest concentration of essential minerals, this spring was highly recommended by physicians in the 1800s.
Navajo Spring
Currently closed. Navajo Spring was originally a rendezvous for indigenous peoples, explorers and early settlers.
Cheyenne Spring
The natural, sweet soda water of Cheyenne Spring was originally bottled at the Manitou Bottling Plant.
WHEELER SPRING​
Wheeler Spring was donated by the family of Jerome Wheeler—president of Macy's and a mining and railroad magnate.
STRATTON SPRING​
This popular spring stands at the intersection of indigenous trails, historic trolley lines, and the modern highway system.
TWIN SPRING​
Twin Spring is the locals' favorite spring for its sweet taste—perfect for making Manitou Lemonade or Mojitos.
Iron Spring Geyser
Once the most popular spring, thousands of health-seekers would travel to Ruxton Avenue to drink the iron-rich waters.
3 ways to relax and renew in Manitou
Photos provided by SunWater Spa. 
01: Ground yourself and reach zen
Did you know? Besides learning to twist into a pretzel, yoga can actually reduce stress, lower blood pressure and improve your heart's health.
From mastering the basics to advancing your yoga practice, meet on the mat at SunWater Spa. After class, take a dip in one of their 9 mineral soaking tubs—powered by 7 Minute Spring.
Did you know? Not that you needed another reason to explore Colorado's great outdoors, but nature's benefits truly are endless.
Spending time outside can ease anxiety and depression, increase brain function and even improve your vision. And with an average of 300 days of sunshine each year—a hike in Manitou is just what the doctor ordered. 
Photo provided by Anna's Apothecary. 
Did you know? Chamomile doesn't just taste great. It can also fade dark spots. Cinnamon can clear up pesky zits and turmeric detoxifies your blood system.
If you're looking to reset your skincare routine or switch to more natural products, visit the ladies at Anna's Apothecary and the Brazen Bee. One natural glow coming right up!
Whether it be through medicinal herbs or healing waters, Manitou Springs has been perfecting the art of health and wellness for over 200 years. Stop by and let us show you how we self-care.