There's something in the water
8 naturally-carbonated mineral springs
Each spring has its own unique taste
The source of these famous mineral waters lies deep underground in a system of cavernous aquifers. As the ancient water erodes the surrounding limestone, carbonic acid is created, which gives the Manitou springs their effervescence. This natural carbonation forces the water back to the surface through cracks in the rocks, where it absorbs high concentrations of sodium bicarbonate (soda) and other minerals, including Lithium!
Take a self-guided tour anytime
Stop in the Manitou Springs Chamber of Commerce & Visitors Bureau at 354 Manitou Ave. for a map and a detailed chart of the mineral make-up of each spring and grab a collapsible souvenir cup for just $2 to support the Mineral Springs Foundation in keeping the Springs running for all to enjoy. Our staff and volunteers will be glad to help you locate all of the springs and share their tasting experiences with you. These special healing waters cannot be found anywhere else in Colorado!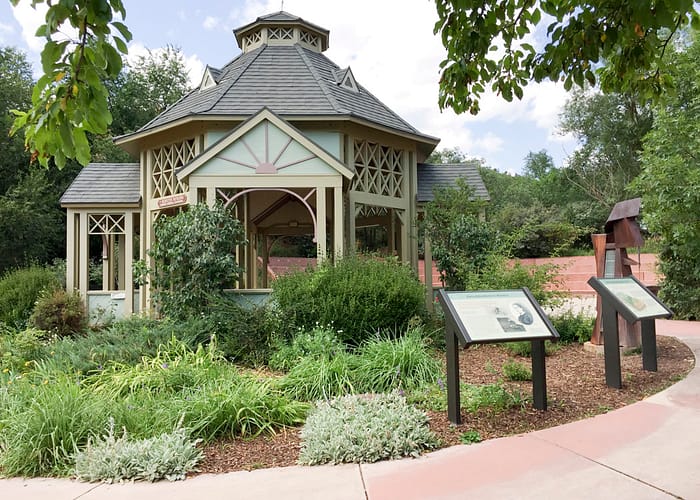 7 Minute Spring
Drilled to enhance the park of the Mansions Hotel in 1909, carbonation caused it to erupt at 7 minute intervals. It was re-drilled in the 1990's and again in 2014.
Shoshone Spring
A natural spring with the highest levels of many minerals, Shoshone Spring was highly recommended by physicians of the 1800s for its curative uses before modern medicine.
Navajo Spring
Navajo Spring was near the Ute Pass Trail and was a rendezvous for indigenous peoples, explorers and early settlers. The font is located on the back outside wall of current-day Patsy's Candies Store. The candy store was originally a sampling room for the bottling works.
Cheyenne Spring
The natural soda water of Cheyenne Spring was originally bottled at the Manitou Bottling Plant. The stone Manitou Spa Building was built around Cheyenne Spring in 1893. Today this spring is piped to the cast bronze font designed and built by sculptor Paul Rogers.
WHEELER SPRING​
Wheeler Spring was donated to the city by the family of Jerome Wheeler, one time president of Macy's department store, mining and railroad magnate, banker, and chief promoter. He was also the past president of the Manitou Mineral Bottling Company.
STRATTON SPRING​
Drilled by the Stratton Foundation during the Depression as a service to the town, this popular spring stands at the intersection of indigenous trails, the historic trolley lines, and the modern highway system.
TWIN SPRING​
Twin Spring is the locals' favorite spring for its sweet taste, calcium and potassium content and for making Manitou Lemonade or Manitou Mojitos. Originally two springs, Twin Spring now has been merged into one font.
Iron Spring Geyser
Once the most popular spring in Manitou, thousands of health-seekers would travel to Ruxton Ave. to drink the iron waters. The current spring was drilled by a local entrepreneur in 1910 and made wildly popular by adding orange and lemon flavoring.