Your basecamp for adventure
Nestled at the foot of Pikes Peak, Manitou Springs plays basecamp to some of the best hiking in the region. Coloradans may seem intimidating with their Patagonia puffer vests, their sticker-covered Nalgene bottles and their heavy-duty trekking polls—but don't let them fool you. From paved paths to short out-and-backs, there are plenty of breathtaking summits for every hiking level.
Difficulty: Extremely Difficult
It's "only" a mere 2,744 steps, but the Manitou Incline is "all uphill from here." Local Olympians at the Olympic Training Center in Colorado Springs use the 2,000-foot vertical climb as their personal training grounds. But trust us, the view from above the clouds is well worth the tight quads you're guaranteed.
The Manitou Incline is the only trail in the area that requires reservations. Reserve your spot here. 
Difficulty: Medium
This 1.88-mile out-and-back trail offers beautiful views of Cheyenne Mountain and the city of Colorado Springs. A little elevation gain will get your heart pumping, so feel free to stop and smell the roses. No really—wildflowers line this trail leading to the summit. Feeling adventurous? After summiting Mount Cutler, hop onto Mount Muscoco Trail for two summits for the price (it's free) of one!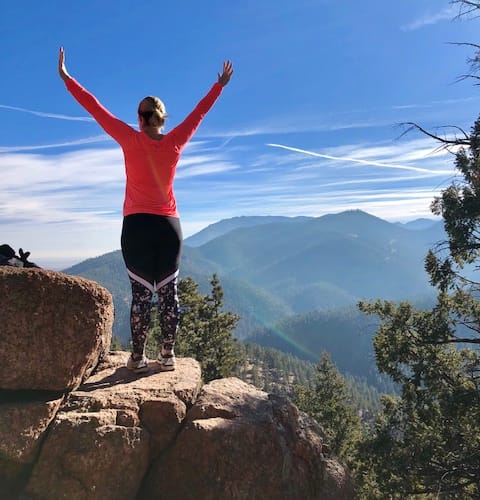 Difficulty: Easy-Medium
We don't want to brag, but Garden of the Gods has been ranked the #1 park in the U.S. by Trip Advisor, even over New York City's Central Park. Perkins Central Garden Trail is an easy, 1.5-mile paved loop through spectacular rock formations. With 21 miles of trails to explore, there's an adventure for every level. Take a bite out of that apple, NYC.
Balanced Rock, Kissing Camels and the Siamese Twins are just some of the most famous rock formations in the garden.
They call this region "breathtaking" for a reason—high-altitude hiking can literally take your breath away. Keep these tips in mind when reaching new heights here in Manitou Springs.
After hitting the trail, head back into town and treat yourself to some of our favorite spots. To say you've earned it would be an understatement!