Three events celebrating Mardi gras in Manitou Springs
2024 Carnivale Weekend
Theme: ARTopia
Weekend of Mardi Gras Fun
Returning in 2024 is the Manitou Springs Carnivale Weekend! Join us for Carniball, the Mumbo Gumbo Jumbo Cook-Off and the Carnivale Parade. Local shops and restaurants will also be offering some sweet deals and food specials (to hopefully include some warm, tasty gumbo!).
Dress up, dress down, and don't forget to don your feathered masks while you enjoy all that Manitou Springs has to offer.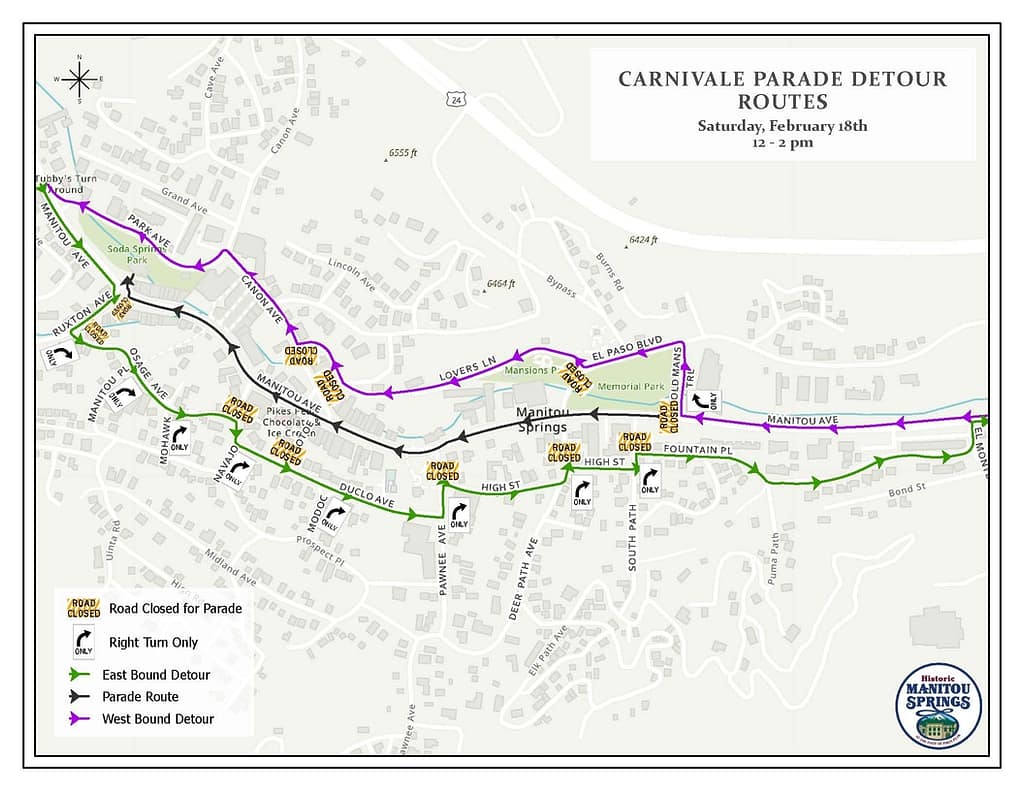 Stop at any Pike Ride hub and pick up an e-bike for a quick yet beautiful ride into Manitou Springs. You can ride all the way to Soda Springs Park & park your bike at any bicycle rack.
Pike Ride is offering a discount code for your bike into Manitou Springs for Carnivale! Use the code CARNIVALE23 for two free trips, each up to 20 minutes in duration. The code is valid 2/17 – 2/18.
Grab a bus! The #3 Metro Bus will be running all day and drops off at Memorial Park. 
The #36 shuttle will be running for Carnivale! The route goes from Fields Park through Downtown Manitou and runs every 20 minutes. Last shuttle at 4 p.m. 
There will be a shuttle from Manitou Springs High School with drop off at Hiawatha Gardens in Memorial Park. Last shuttle at 4 p.m.
The #33 Free shuttle for Manitou Springs will stop running from 12pm until 2pm on February 18th, 2023 due to the parade.
You can reserve a parking spot beforehand, and guarantee a place to park at 339 Manitou Avenue. The rate is $20/day. There are only 15 spots available, so they will go quick! To reserve a parking spot, please visit: https://parking.honkmobile.com/hourly/zones/78002
Parking will be available for a fee at Hiawatha Gardens located in Memorial Park.

Free parking located at Fields Park. The free #36 shuttle runs from Fields Park through Downtown Manitou.
The Manitou Springs High School & Middle School will be offering parking from their SkillsUSA club. The SkillsUSA Club is a construction class at the High School and the money raised will go to support the clubs travel to construction competitions. $10 to park!
There will be a shuttle from Manitou Springs High School with drop off at Hiawatha Gardens in Memorial Park. 
Other Carnivale Events Around Town
St. Andrew's manitou - CARNIVALE
The Church sanctuary will be open on Saturday Feb. 18th from 10 am – 2pm with a coffee bar for Carnivale.
Our annual "Shrove Tuesday" (Fat Tuesday, Mari Gras) free pancake supper will be Tuesday, February 21st from 5:30 pm – 7:00 pm.
Krewe of shining celestials carnivale after party
Join us for the Carnivale After Party, February 18, 2023 right after the Carnivale Parade hosted by LeGrande Accents Boutique! Located at Soda Springs Park from 2-4pm.
carnivale after-after party at the lodge
JOIN OUR GOLDEN AFTER PARTY at The Buffalo Lodge 3-9 pm with Crazy Tony's DJ Joe Imperiale.
DRAG me to carnivale! Come and join us for an AMAZING show! Food from Adams Mountain Cafe provided, as well as drink specials at the venue! Join us in continuing the Manitou Carnivale Celebrations, in THEEEE best way!