Saturday, February 10, 2024
It's tradition in Manitou Springs to march down Manitou Avenue and celebrate Mardi Gras in true fun and funky color that Manitou is known for! So grab your beads and costume-up with us! 
Our theme for 2024 is ARTopia
The more the merrier, so bring your family, your neighbors, your co-workers, your friends, everyone! Always free to join in, RSVP REQUIRED, CLICK HERE TO JOIN PARADE!
We need help herding Mardi Gras revelers! If you have a big voice and personality we need you. Fill out a volunteer application below.
Congratulations to our 2023 Best Carnivale Krewes
Thank you to all who participated in the Manitou Springs Carnivale Weekend Community Parade. It was a blast!
Congratulations are in order for our 2023 Winning Krewes: 
BEST KREWE – Krewe of Shining Celestials 
BEST MANITOU FLAIR – Manitou Drum Circle
BEST USE OF THEME – Team Tecate
BEST PET STAR –  Dennis the Emu
Make your trip as easy as possible!
Cavnivale parade detour & Event Parking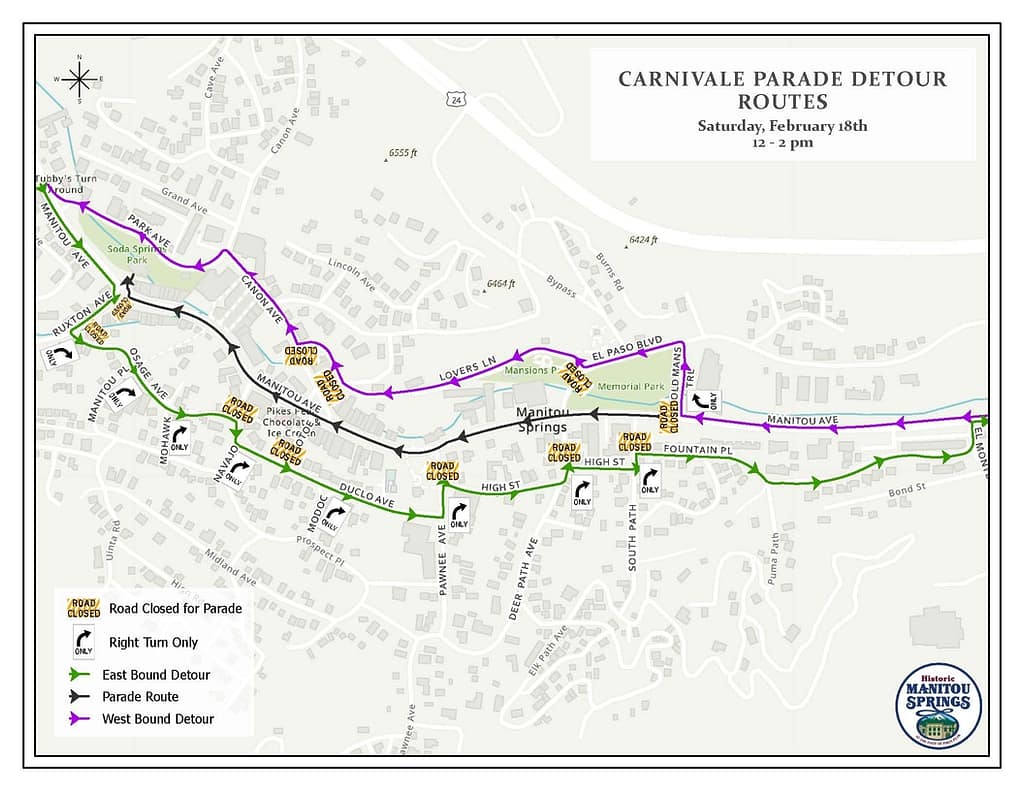 Stop at any Pike Ride hub and pick up an e-bike for a quick yet beautiful ride into Manitou Springs. You can ride all the way to Soda Springs Park & park your bike at any bicycle rack.
Pike Ride is offering a discount code for your bike into Manitou Springs for Carnivale! Use the code CARNIVALE23 for two free trips, each up to 20 minutes in duration. The code is valid 2/17 – 2/18.
Grab a bus! The #3 Metro Bus will be running all day and drops off at Memorial Park. 
The #36 shuttle will be running for Carnivale! The route goes from Fields Park through Downtown Manitou and runs every 20 minutes. Last shuttle at 4 p.m. 
There will be a shuttle from Manitou Springs High School with drop off at Hiawatha Gardens in Memorial Park. Last shuttle at 4 p.m.
The #33 Free shuttle for Manitou Springs will stop running from 12pm until 2pm on February 18th, 2023 due to the parade.
Parking will be available for a fee at Hiawatha Gardens located in Memorial Park.
Free parking located at Fields Park. The free #36 shuttle runs from Fields Park through Downtown Manitou. 
The Manitou Springs High School & Middle School will be offering parking from their SkillsUSA club. The SkillsUSA Club is a construction class at the High School and the money raised will go to support the clubs travel to construction competitions. $10 to park!
There will be a shuttle from Manitou Springs High School with drop off at Hiawatha Gardens in Memorial Park. 
Themes change every year, but the rules don't. See below for some standard Carnivale practices.
Some things never change. We've never had any motorized vehicles in the parade, and we'll stick to that.
Yes! Your four-legged family members are welcome (or two legged ones, for that matter!) Please consider that this can be a very busy and crowded day in Manitou Springs and not all of our beloved pets like big crowds, so if it's best to leave them at home-please do. If they're coming with you, just make sure they've got a leash and stay safe.
The Parade starts at Memorial Park, 502 Manitou Ave, and continues all the way Westbound down Manitou Ave to Soda Springs Park, 1070 Manitou Ave. You can watch from anywhere along the route!
The letters lead the parade after the King & Queen and are the centerpiece of the parade. We wish we could offer letters to everyone that wants to be a carrier, but our voted-in Carnivale Court will carry in addition to other "Manitou Royalty". We'll have puppets that need carried, though! So please email jenna@manitouchamber.com if you're interested in donning one of the historic puppet characters.
It's a parade, after all. Yeah, we know. Unfortunately, we can't toss things like candy, beads, or other fun stuff. That's a rule. Handing out flyers is also a no-no. (That's about the environment). If you want to walk over to hand beads or candy to someone in the crowd, that's ok. Just please keep the tossing to yourself!
Yes! Always free for everyone. Come down and watch- or join in the fun!
Congratulations are due to our 2023 Carnivale Court!
King – Ben Luplow
Queen – Jannine Scott
Dukes – Douglass Edmundson and Michael Edmiston
Maids – Michelle Tomasik and Rhonda Van Pelt
Jester – Becky Pontz
Very entertaining!…I loved it!! – Danielle C.

We had a GREAT time! Can't wait till next year!!!! – Nancy T.