Did Somebody Say Holiday Lights?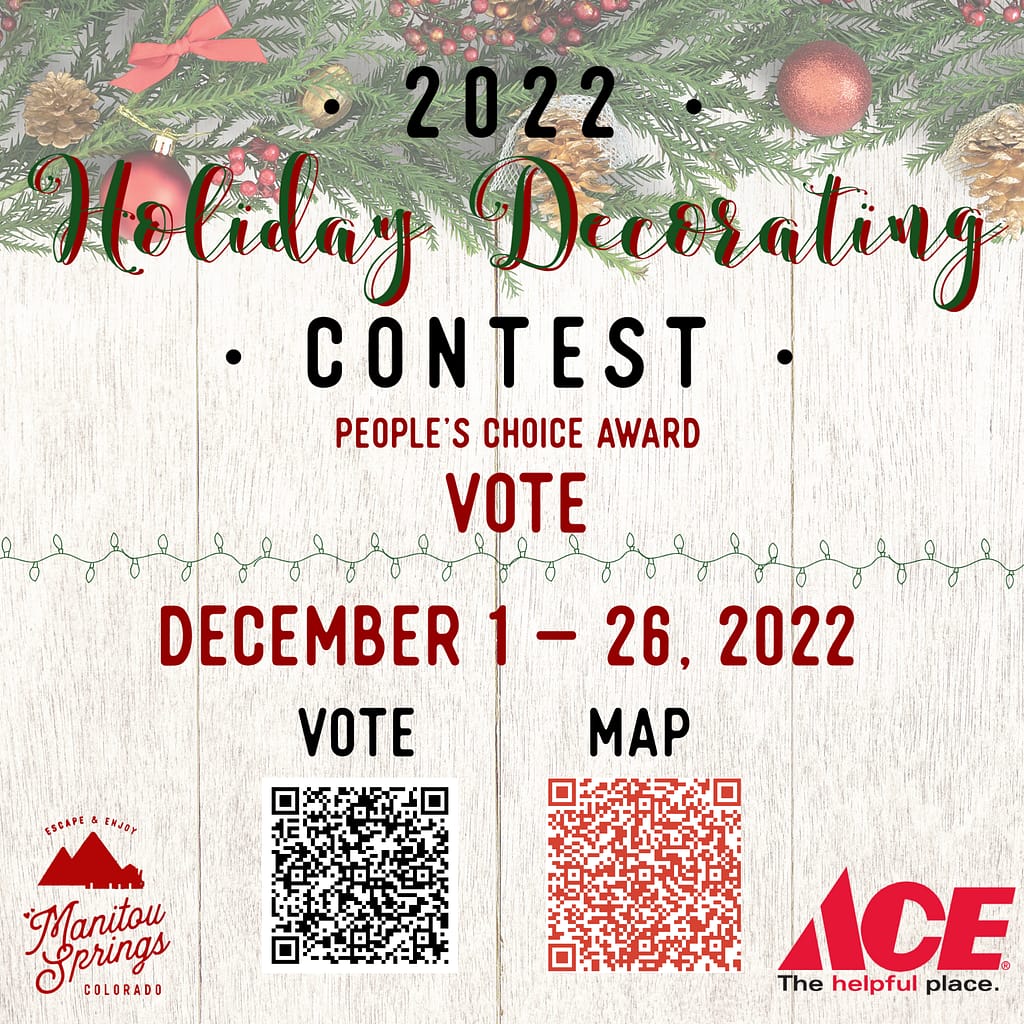 Downtown Window Decorating Competition
The Manitou Springs Downtown Holiday Decorating Competition has returned for 2022, starting on December 1.
To be eligible, businesses should sign up through the Chamber and decorate their storefront windows in holiday fashion to catch the eyes of residents and visitors in Manitou Springs this shopping season.
Judges will select winners based on 4 elements: Creativity, Most Colorful, Holiday Theme, & Overall Appearance. The grand prize is a $125 Ace Gift Card from our signature event sponsor, Ace Hardware Uintah Gardens. Second place to receive $75 and third place $50 in Ace Hardware Gift Cards.
Businesses who contact the Manitou Springs Chamber of Commerce, 354 Manitou Ave, will be entered as a competitor in this year's contest. Fill out this form, call 719-685-5089, or send an email to jenna@manitouchamber.com in order to register your business.  
Winners will be awarded last week of December.
6,412′ Shirt Company

 734 Manitou Ave

Armadillo Ranch 

962 Manitou Ave

Border Burger Bar 

934 Manitou Ave

Cherokee's of Manitou

 351 Manitou Ave

Christmas in Manitou

 726 Manitou Ave

Gigi's The Animal Lovers' Gift Shop 

728 Manitou Ave

La Henna Boheme 

 801 Manitou Ave

LeGrande Accents Boutique 

743 Manitou Ave

Loft Espresso 

934 Manitou Ave #105

Manitou Outpost 

807 Manitou Ave

Manitou Winery 

934 Manitou Ave STE 108
Miramont Castle Museum/The Queen's Parlour Tea Room


9 Capitol Hill Ave

Mountain High Gallery & Gifts 

11 Arcade

Mountains West 

920 Manitou Ave

Olde Tyme Photography Parlour 

903 Manitou Ave

Persephone Grae's Cafe & Juice Bar

 819 Manitou Ave

Rocky Mountain Beignets 

 724 Manitou Ave

SALUS Bath and Body 

906 Manitou Ave Suite 105

The Ten Spot 

906 Manitou Ave #104

Totally Nuts & Company 

919 Manitou Ave

Townhouse Sports Grill 

907 Manitou Ave

Twin Bears 

4 Cañon Ave