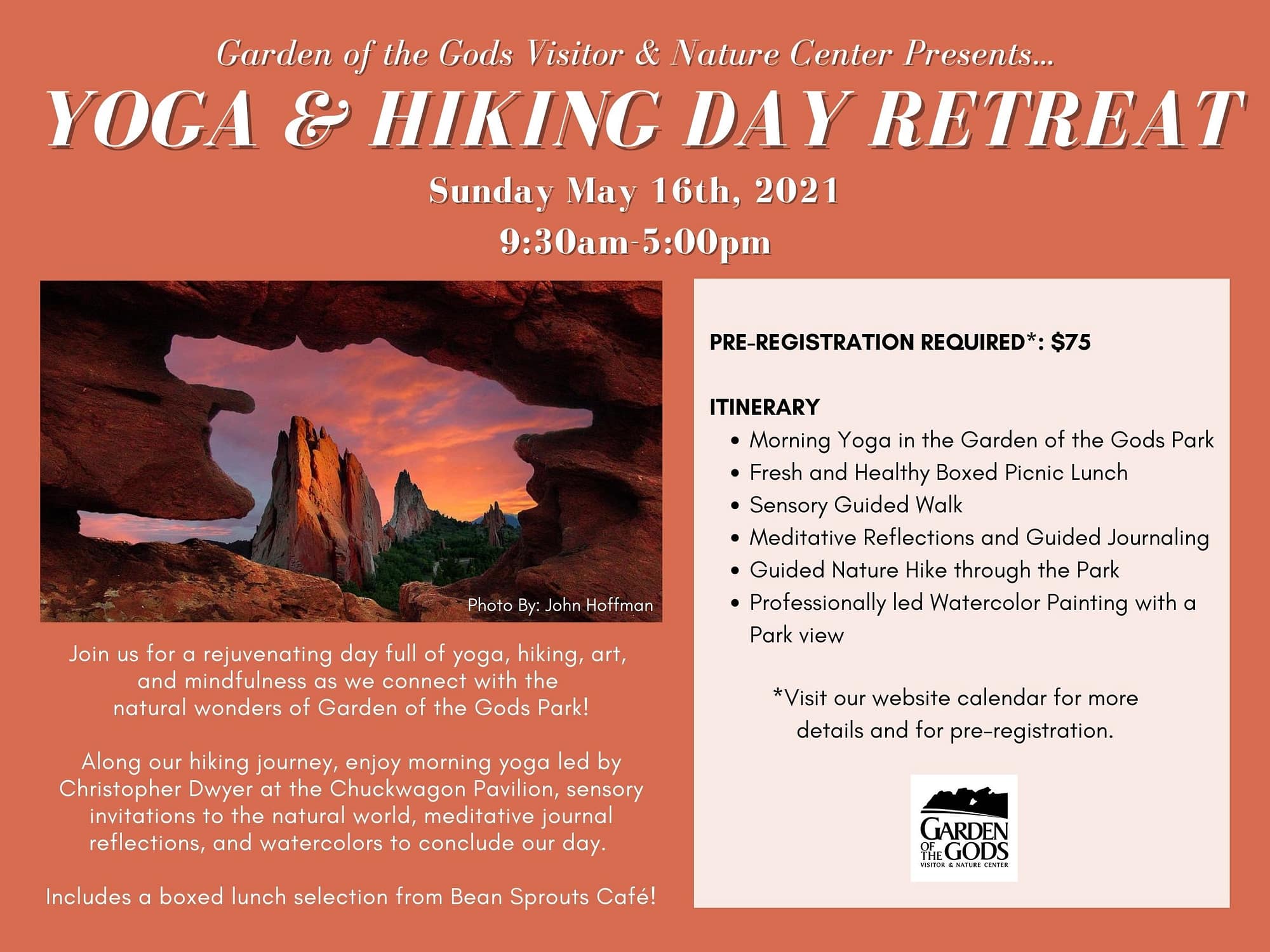 Yoga and Hiking Day Retreat
Dress for the weather, bring a yoga mat, sunscreen, and plenty of water (at least 2, 1 liter bottles).  We will be traversing through nearly 5 miles of trail throughout the course of the day.  Pre-selected Bean Sprouts Café boxed lunches will be brought to our lunch picnic location where you have the option to have your yoga mat brought back to the Visitor Center for you to retrieve at the end of the day.  (Following registration you will receive a follow-up email for lunch selection.)
Yoga will be led by Chris Dwyer:
"Chris Dwyer is passionate about teaching yoga and about the natural wonderland known as Garden of the Gods. A certified somatic psychology educator and Theta Healing practitioner, Chris completed his yoga teacher training at Shoshone Mountain Ashram near Nederland, Colorado (elevation 8200') over six years ago and has delighted in offering yoga classes at the foot of Tava (aka Pike's Peak) ever since. Chris also works as a life coach and owns a vacation rental business in Old Colorado City and Manitou Springs.
Chris teaches Hatha Yoga, an accommodating practice typified by mindful breathwork, static poses, an alignment focus, and a manageable pace. The practice is accessible to practitioners at all levels—beginner to advanced—and Chris tailors each class to attendees' specific needs and abilities. Chris also brings progressive relaxation and sound healing dimensions to his classes to help students reach deeper states of relaxation, integration, awareness, and connection."
For further questions, please contact programs@gardenofgods.com or call Angie Schirtzinger at 719-219-0114.
*Tickets are sold on a first-come-first-serve basis.  No Refunds.
**All participants must wear a mask.
***Program recommended for ages 14 and up.