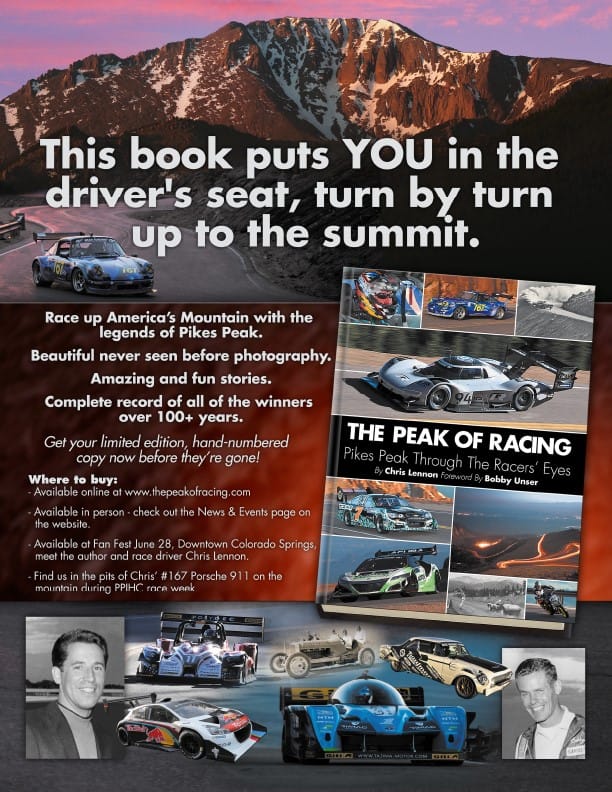 "The Peak of Racing"
June 12 ••• Sunday••• 1:00 pm••• "The Peak of Racing", a presentation by Pikes Peak International Hill Climb winner Chris Lennon
The Manitou Springs Heritage Center and Museum welcomes auto racer and author Chris Lennon for a talk and presentation of his book, "The Peak of Racing". Mr. Lennon's presentation and book are a "must" for racing fans everywhere. Pulling in stories from legends like Mario Andretti, the Unsers, Dominic Dobson, Rick Mears, Romain Dumas, Ari Vatanen, Randy Pobst, Jeff Zwart, and a host of others, it puts you in the driver's seat in one of the world's most famous races.
The PPIHC is the USA's second oldest motor race, and famous the world over for its incredible history and vertigo-inducing nature. Learn how this legendary event began, and its evolution over the past century or so.
Visit our free museum. Manitou Springs Heritage Center and Museum 517 Manitou Avenue Manitou Springs, Colorado 80829. For more information, call 719-685-1454, email: ManitouHeritage@gmail.com, or visit www.manitouspringsheritagecenter.org. Open Thursday-Sunday Noon-4:00pm or by appointment.