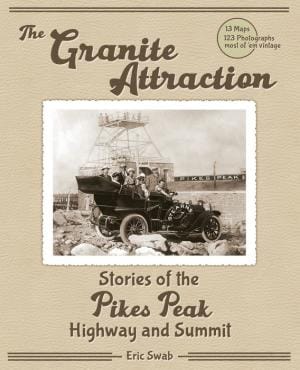 "The Granite Attraction"
June 4•••Saturday 10:00 am ••• "The Granite Attraction" by Author and Historian Eric Swab
The Manitou Springs Heritage Center and Museum welcomes historian and author Eric Swab for a talk and presentation about his new book,  "The Granite Attraction, Stories of the Pikes Peak Highway and Summit".  Since 1873, the summit of Pikes Peak has served as a U. S. Army weather station, an attraction for visitors, innkeepers, skiers, hunters, and fishermen. Individuals and corporations have been motivated by the challenge of the mountain's highway to get their horseless carriages, automobiles, race cars, motorcycles, bicycles, trains, basketballs, wheelbarrows, peanuts, and pianos to the top of the mountain.
The summit has also been the site of experiments in meteorology, aircraft engine design, and human physiology. Over the years, five structures have been built for this purpose. There have been several struggles for control including an attempt to homestead the summit. It has been the source of tall tales, stories of hardship, and of failure.
Visit our free museum. Manitou Springs Heritage Center and Museum 517 Manitou Avenue Manitou Springs, Colorado 80829. For more information, call 719-685-1454, email: ManitouHeritage@gmail.com, or visit www.manitouspringsheritagecenter.org. Open Thursday-Sunday Noon-4:00pm or by appointment.