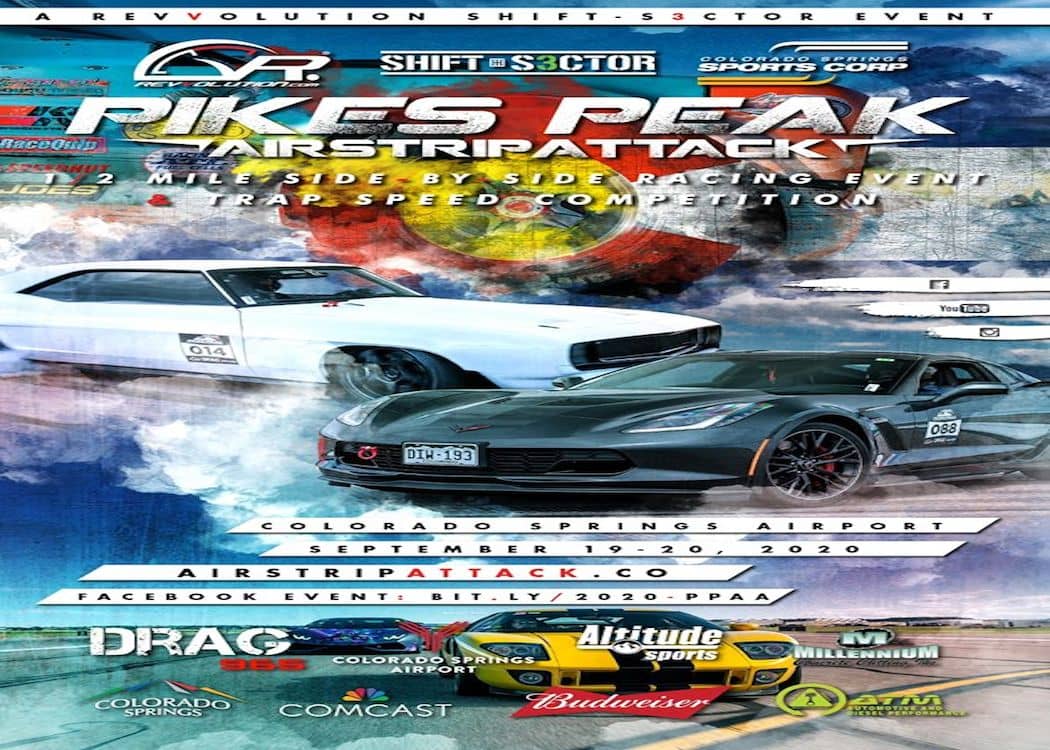 Pikes Peak Airstrip Attack
Mark your calendars and don't miss the half-mile side-by-side trap speed competition that features the fastest stock and modified street cars in the world!
Revvolution.com, Shift-S3ctor, and the Colorado Springs Sports Corp are excited to announce the 2020 Pikes Peak Airstrip Attack is returning to the Colorado Springs Airport for its seventh year.
In 2019, more than 7,000 spectators, 60 media outlets, 30 sponsors, and 11 vendors gathered at the Colorado Springs Airport. Roughly 1.9 million viewers across the world tuned into the live broadcast to watch 315 die-hard competitors hit the tarmac, making the Pikes Peak Airstrip Attack the largest event of its kind in the world.
As technology advances and teams fine-tune their setups for half-mile trap speed competitions, records stand no chance of withstanding the quest of claiming the title of King of the Pikes Peak Airstrip Attack. In 2018 a new world record was set by Underground Racing and a 259.6 mph half-mile pass was etched into the history books.
"The Pikes Peak Airstrip attack is an exciting event and the Colorado Springs Airport is thrilled to serve as the venue for the 7th consecutive year," said Greg Phillips, director of Aviation for the Colorado Springs Airport. "This is an event to look forward to and we invite the Colorado Springs Community to come out to the airport to enjoy this unique experience and witness history being made."
While we look forward to building on the success and momentum of past events, planned airport construction will limit this year's event to a single runway. This means that there will not be Pro Am runway running for 2020. The spectator layout will also be adjusted to accommodate construction; however, the experience will remain as high-adrenaline as ever!
Next Event
Date

Aug 31 2022

- Mar 22 2023

Time

12:00 pm - 4:00 pm