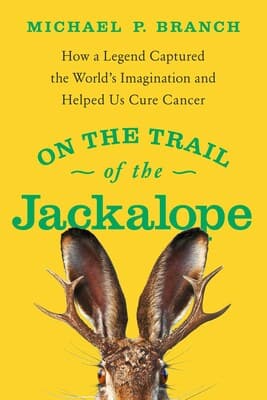 "On the Trail of the Jackalope" by Author, Professor Michael P. Bssranch and Profeor Sylvan Goldberg
May 27 •••Friday 2:00 pm ••• "On the Trail of the Jackalope"  by Author, Professor Michael P. Branch and Professor Sylvan Goldberg 
The Pikes Peak Library District and the Manitou Springs Heritage Center and Museum welcome author and professor Michael P. Branch for a talk and presentation on his new book,  "On the Trail of the Jackalope: How a Legend Captured the World's Imagination and Helped Us Cure Cancer".  We also welcome Sylvan Goldberg, professor of English at Colorado College, who will be joining Professor Branch for the presentation and conversation.
This is the never-before-told story of the horned rabbit – the myths, the hoaxes, the very real scientific breakthrough it inspired – and how it became a cultural touchstone of the American West.
The book asks an incredible question— How did jackalopes help cure cancer?—and tells the fascinating and educational answer!
Visit our free museum. Manitou Springs Heritage Center and Museum 517 Manitou Avenue Manitou Springs, Colorado 80829. For more information, call 719-685-1454, email: ManitouHeritage@gmail.com, or visit www.manitouspringsheritagecenter.org. Open Friday-Saturday 11:30am-3:30pm or by appointment.