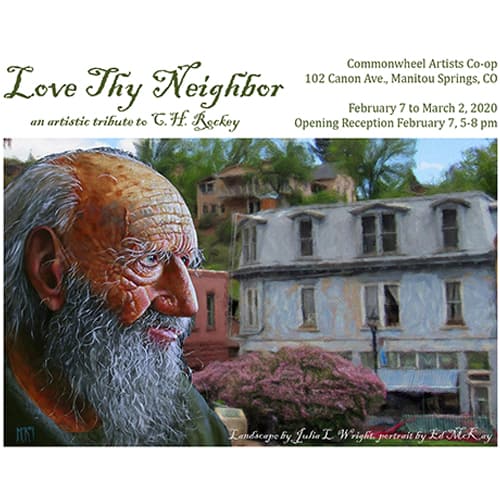 Love Thy Neighbor
Juried show of art inspired by C. H. Rockey.
Last year Commonwheel's beloved neighbor, Manitou Springs long-time community member, and artist legend, Charles Rockey, passed away.
Commonwheel member and show curator, Kelly Green, suggested the idea for a gallery show to commemorate him. She had the opportunity to frame many of Rockey's cherished pieces over the past year and a half.
Because Rockey's impact was inspiration for work by other artists during his teaching career the call for art inspired by him, his work, and his love of Manitou had a very large response.
Love Thy Neighbor includes work by Denise Duker, Ed McKay, Jonathan Jensen, Julia L. Wright, Julie Kirkland, Larysa Martyniuk, Linda Newton, Lorraine Capps, Mary Clifford, Patrick Eastlake, Teri Rowan, Wendy Fay, William Weiss, Katia Franz-Garrison, Helen Smithwick, show curator Kelly Green and Kelly's 9 year old daughter, Hali Honigbaum. In addition, we have the privilege of hosting work by Rockey himself in this show.
Please join us and share in this work of love for a man whose life was all about love.