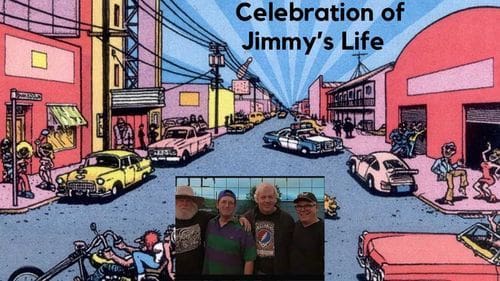 Jimmy Cowell's Celebration of Life
This Saturday's Celebration of Life for Jimmy Cowell will begin at Noon at Armadillo Ranch. Among the artists playing will be A Carpenters Daughter, Family Elephant, Lost Junction & Big Sky & Friends along with an open jam for artists to attend at Noon.
Jimmy Cowell led the house band at Armadillo Ranch 2019-2022 as well as graced the stage on a regular basis at The Ancient Mariner prior to 2019. We lost a kind and big-hearted friend, a dedicated colleague, a loving family member, and an incredible artist and musician in our community when Jimmy ended his long strange trip on this Earth in early November.
Artists performing for Jimmy's Celebration of Life have requested that any payment to artists from the venue go to the families of the Club Q tragedy. Armadillo Ranch will also be donating a percentage of bar sales on Saturday. "Fare You Well" donations in Jimmy Cowell's name will be accepted from Noon- Midnight at Armadillo Ranch, all proceeds to benefit the families who lost a loved one at Club Q on November 19th, 2022. "Jim would love this…" said band-mate James Phillips, in regards to donating funds in Jimmy's name. Funds raised will be distributed to families during A Remembrance… A Celebration… A Benefit at LuLu's Downstairs on Tuesday, November 29th.