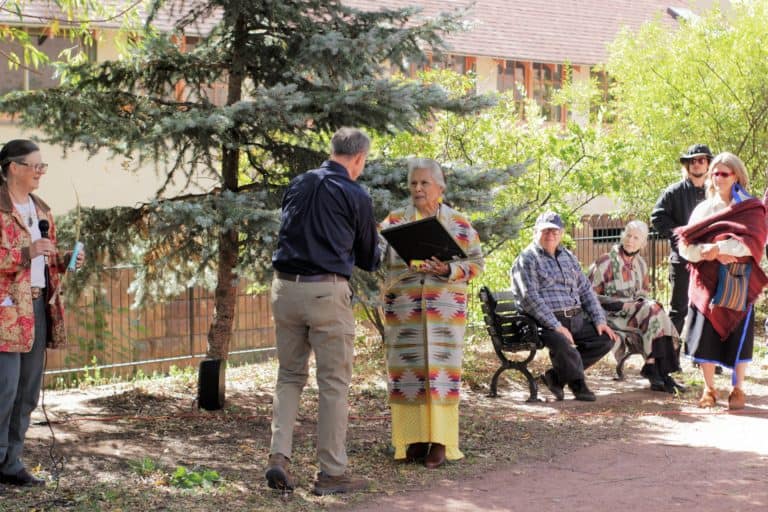 Indigenous Weekend
October 8-10, 2022
A kick off celebration featuring local, modern day, Indigenous Peoples from the Sacred Sage Consortium and their respective Tribal Nations, families, etc. View pictures, heirlooms, artwork, specific tribal stories, and much more during this amazing event!
Saturday, October 8th
6:00 PM – 9:00 PM – "Meet and Greet" with Southern Ute Kenny Frost and Uncompahgre Utes Jonas Grant Bullethead and Joy Grant Bullethead. With special guest Celinda Kaelin, author of American Indians of the Pikes Peak Region. Located at Manitou Springs City Hall, 606 Manitou Avenue, 80829.
Sunday, October 9th
9:00 AM – 10:00 AM – Cheer on the historical Ute Trail horse ride with the relatives of Chief Ouray, Chief Buckskin Charley, and Chief Nanice as they finish and re-dedicate the Historic Ute Trail in Manitou Springs, first dedicated in 1912. Ride passes by Miramont Castle approx. 9am, and ends at Cheyenne Spring Parklet, next to Patsy's Candies approx. 10am.
11:00 AM – Horseback ride continues to Seven-Minute Spring Pavilion for a re-dedication by the Ute Elders. Located at Memorial Park.
12:00 PM – Addresses from leaders of the Southern Ute, Ute Mountain, and Uintah Ouray Ute Tribes. Located at Seven-Minute Pavilion in Memorial Park.
1:00 PM – 'Food From the Earth' Potluck, featuring Seven-Minute Stew. Bring a dish from the heart to share. Soup will be vegan and gluten free. Slow cooked seasoned beef brisket, pulled pork and chicken will also be available à la carte. Located at Memorial Hall 606 Manitou Avenue.
Monday, October 10th
9:00 AM – Celinda Kaelin, author of American Indians of the Pikes Peak Region and special guests talk to Manitou Springs elementary students about Colorado native peoples' history. Location TBA. Call 719-302-4241 for more info.
Next Event
Date

Sep 01 2023

- Oct 02 2023

Time

5:00 pm - 6:00 pm