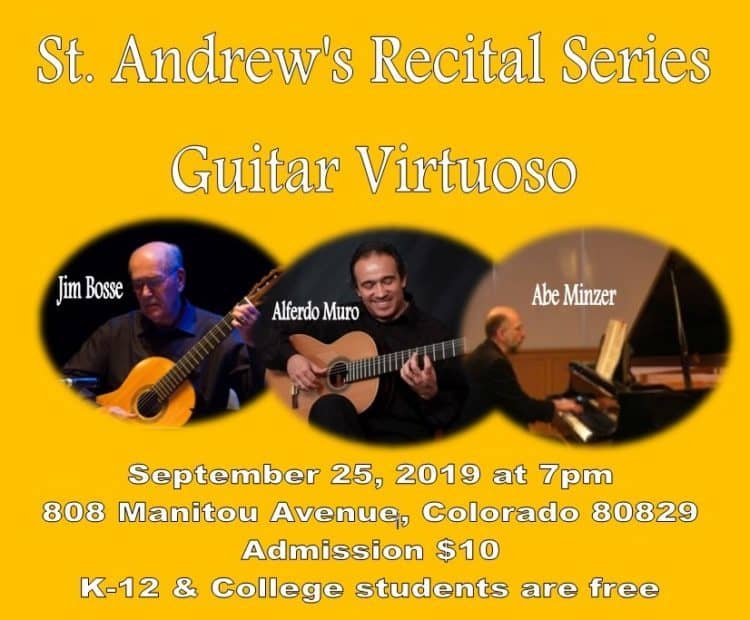 Guitar Music of South America
Guitar Maestros Alfredo Muro Returns!
Peruvian guitar virtuoso, Alfredo Muro, dazzled audiences last September at five concerts in Southern Colorado presenting South American guitar music. The concerts were such a success that he decided to return this September to the same venues. Although the venues will be the same, the program will be different. Local guitarist, Jim Bosse guitar, will join in again to perform several duets with maestro Alfredo.
The main attraction of this program will be a performance of "Suite Indiana" by Argentine composer, Jorge Cardoso. This concerto presents folk music from Argentina, Venezuela, Paraguay and Brazil; masterfully arranged for classical guitar duo and string orchestra. For this concert, Colorado Springs virtuoso pianist, Abe Minzer, will perform all the string parts on piano. This piano reduction was arranged by Sylvia Hazlerig, formerly living in Crestone, Colorado. Jim assisted in this project with Sylvia; plus he and Abe performed the first performances of this version of the concerto.
Next Event
Date

Sep 08 2022

- Mar 30 2023

Time

12:00 pm - 4:00 pm