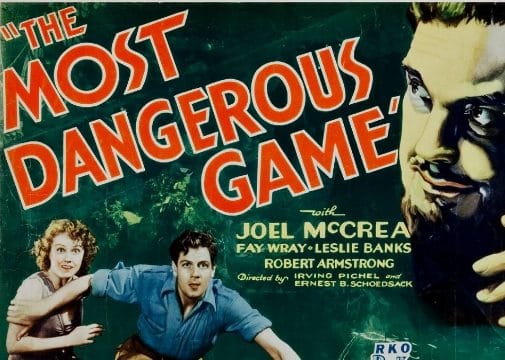 Friday Night Frights at the Heritage Center
October 11 7:00 Friday Night Frights Presents "The Most Dangerous Game" Ship wrecked Bob Rainsford (Joel McCrea) crawls ashore on a mysterious island and finds his way to a creepy castle inhabited by a Russian Count named Zaroff (Leslie Banks). There he meets the lovely Eve (Fay Wray) and her drunken brother Martin (Robert Armstrong), who were also ship wrecked.
It turns out that the "Game" of the title is the mad Count hunting down and killing human prey. Starring Fay Wray. Producer David O. Selznick (1932) Note: Creighton Chaney (aka Lon Chaney, Jr.) played an uncredited bit part.
Heritage Center doors open at 6:30pm; movies start at 7:00 pm. Run time 1:02:33. Popcorn and traditional movie concessions are available. Donations benefit the Manitou Springs Heritage Center.  The Heritage Center is located at 517 Manitou Avenue. For more information, visit http://www.manitouspringsheritagecenter.org/ or call us at 719-685-1454.
Next Event
Date

Nov 06 2022

- May 28 2023

Time

12:00 pm - 4:00 pm