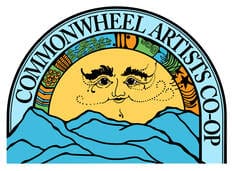 Flights of Fancy
Commonwheel Artists Co-op  
Flights of Fancy

Show runs August 5-29, 2022 
Opening Reception August 5, 5-8pm 
Commonwheel Artists Co-op is hosting a group of guest artists in our Gallery Space during August. They will be showing art created from a soaring of imagination and fantastic notions.; pieces that are vibrant and full of energy. 
Jennifer Niccolai, pottery 
Jennifer is originally from Indiana but came to settle in Colorado Springs after being stationed here while serving in the Army.  Her work uses bright colors, sharp contrasts, in combination with carving, and slip trailing on her pottery to reflect the beauty in life and nature that she feels is often overlooked in our everyday lives. A lifelong artist, Jennifer, has experimented with many different mediums but ultimately developed a passion for pottery. 
April Stark, watercolor painting, acrylic, resin 
Growing up in East Africa formed April's love for vibrant and dynamic colors. Whatever medium she chooses is sure to be dramatic and full of life. A self-taught artist, she now lives in Colorado Springs with her husband of 32 years and is loving all the beauty just waiting to be captured on paper or canvas.  
With a whimsical heart, an undying passion for making quality art, unique creations, and an extremely curious bent, I hope you will enjoy what I create as much as I enjoy creating.  
Raquel Biaza, watercolor painting 
I love the process of creation and expression through paints, canvas, and brushes. Over more than 20 years of practice, I have learned to create both abstract and realistic pieces in acrylics, oils, inks, pencil and much more, but watercolor is what I have come to love and enjoy the most. I'm always looking to expand my horizons, so I've recently been using alcohol inks, an exciting medium that results in vibrant, free-flowing creations.


Also participating in this show are: 
Tim Bachman, oil paintings 
Next Event
Date

Sep 08 2022

- Mar 30 2023

Time

12:00 pm - 4:00 pm