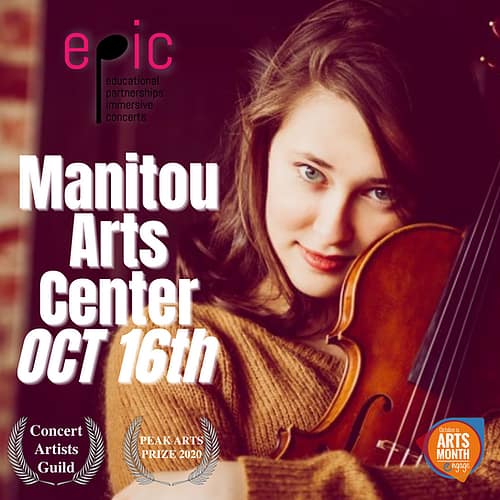 EPIC Encore at MAC
Classical music non-profit, EPIC (Educational Partnerships Immersive Concerts), announces an encore performance of Violinist Ariel Horowitz on Saturday, Oct. 16 from 7 p.m. to 8:15 p.m. at the Manitou Art Center located at 513 Manitou Ave., Manitou Springs.
"We are so excited to bring this unique program to Manitou Springs," says Artistic Director Sergei Vassiliev. "Made possible by a generous Manitou Arts Culture Heritage Initiative Grant, we are able to provide deeply discounted admission to Manitou Springs Residents. The concert features the best musicians in Southern Colorado as well as an international violin virtuosa. Guests will hear music by giants like Brahms and Tchaikovsky, as well as new composers like Jesse Montgomery and Paul Schoenfeld."
With the help of the grant, residents in Manitou Springs zip code 80829 can receive half-off the regular ticket price of $39 by entering code MACHEPIC at check-out on epicmustsee.org/shop or 719-425-9227.