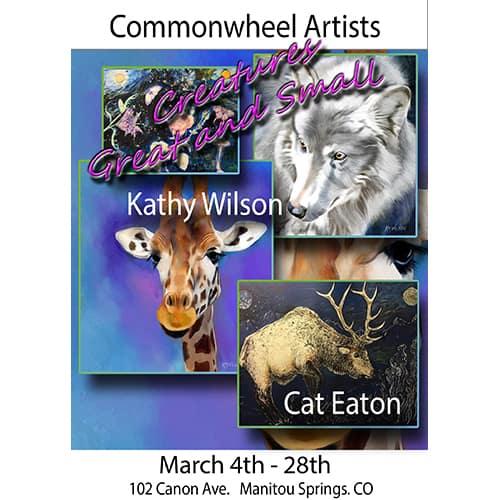 Creatures Great and Small
Commonwheel Artists Co-op will have walls full of animal art in March.
Kathy Wilson and Cat Eaton are both animal illustrators and have joined together to bring us "Creatures Great and Small."
Kathy has loved drawing for as long as she can remember. She graduated from Mary Washington University with a B.A., worked as a cartographer drawing maps for an engineering company, and later for the National Geographic Society. Later turning her hand to graphic design and illustration. Then, in 2015, she completed a master's degree in Motion Media Design from Savannah College of Art and Design. Later that same year, health issues convinced her to change careers and start her own art business, Pendragon Art Studios.
Cat Eaton creates dimensional works of art that include hanging, canvas, panel, or framed pieces, as well as high-quality vinyl wall stickers of nighttime illustrations of animals seen in Colorado.